"Great service, helps me stay healthy and sexually active. Thank you Manual!"
Tadalafil (Generic Cialis)
10mg Tadalafil Tablets
Known as the "weekend pill" because it is effective for up to 36 hours, Tadalafil is the generic, unbranded version of Cialis. Clinically proven to help you get an erection when you need it.
Start from £15
Cancel-any-time subscription

Money back guarantee

UK licenced medication

Free, discreet delivery

Cancel any time

UK licenced medication

Free, discreet delivery

Cancel any time

Ongoing clinician support
How to use Cialis
Get in the mood
You still need to be sexually aroused for it to work, so everything needs to be exciting. You've got this.
Take the pill
Take a pill an hour before you want to have sex. Tadalafil starts to work within 30-60 mins and maximum erection potential happens around the 1 hour mark.
Enjoy
Tadalafil can last up to 36 hours. So absolutely no need to rush. You've got plenty of time.
A note from our doctor
Erections really aren't that easy. For a lot of men. About 40% of men have erection difficulties by age 40. But help is here. Tadalafil is one option for men with E.D. and lasts for up to 36 hours. Whatever the cause, it helps for the vast majority of men.
Earim Chaudry
Medical Director
Your manual to Tadalafil
Onset of action
30 minutes
Available in
2.5mg, 10mg, 20mg
Don't combine with
Alcohol, Nitrates
Benefits
Cost effective, long lasting
Speak to us if you have
Hypotension (blood pressure <90/50 mmHg), recent stroke or heart attack
How it works
Quick questionnaire
We'll ask you a couple of quick medical questions. Tick the boxes and a clinician will review your answers and issue you a prescription.
Free next-day delivery
Your selected treatment will be delivered for free, with discreet packaging and instructions on how to use it.
Clinician support
Chat with a medical expert whenever you need. On the phone or via email. With support throughout your treatment.
---
Money Back Guarantee
If your treatment doesn't work we will give you a full refund on your purchase. 
See terms
Not sure if Tadalafil (Generic Cialis) is the best treatment for you?
Start our free online consultation for the best treatments specifically tailored to you.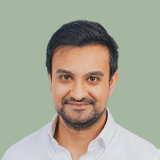 Dr Earim Chaudry
Medical Director
Start consultation
Frequently asked
Is Tadalafil the same as Cialis?
Yes, Tadalafil is exactly the same as Cialis. Tadalafil is the active ingredient in Cialis, and the only difference is the brand name and the cost. You will always need a prescription for Tadalafil or Cialis in the UK, so be wary of counterfeit Cialis being sold on the internet. If you're buying ED medication online, look for the MHRA Distance-Selling Logo (like we have at Manual) to be sure you can trust the source.
How does Tadalafil (Cialis) work?
Tadalafil works by inhibiting the PDE5 enzyme, which is responsible for smooth muscle contraction within the blood vessels. Taking Tadalafil enables the blood vessels in the penis to expand, meaning that blood flow is improved in the place it matters, when you need it most. Tadalafil makes it easier to achieve firmer erections – but only when you're also naturally aroused..
How long does Tadalafil (Cialis) last?
Tadalafil lasts for up to 36 hours – giving you a bit more spontaneity in your love life than Sildenafil (Viagra). That's why they call Tadalafil the "weekend pill". With its long-lasting effects, Tadalafil can be very handy for a romantic trip away – and also for men who anticipate more regular sex without wanting to pop a pill every time they want to get it on.
How long does it take for Tadalafil to work?
Tadalafil can start to work in 30 minutes, which is one of its major benefits as it can be somewhat quicker than other erectile dysfunction medications. It is also unaffected by food intake, unlike the common alternative ED drug – Sildenafil (Viagra), so this is another reason why Tadalafil is so popular. You will need to be sexually stimulated for Tadalafil to work, but don't worry, you have plenty of time
Is Tadalafil right for me?
Tadalafil is right for you if you're looking for more spontaneity than Sildenafil can provide, or if you've experienced unwanted side effects from Sildenafil. A study has shown that it is more widely tolerated than many other PDE5 enzyme inhibitors. Tadalafil may also work better for those men who didn't see the desired effects after taking Sildenafil
Can Tadalafil tablets be split?
No. You should never split, break, crush, or chew Tadalafil tablets. Doing so could result in you receiving more or less than the stated dose. Always swallow the tablet whole.
Does Tadalafil always work?
Tadalafil won't always work, but a 2009 study found that 85.5% of men reported improved erections (compared with 43.5% in the placebo group).

Like other ED drugs, such as Viagra, generic sildenafil, and Levitra (vardenafil), Tadalafil's effects may be delayed if taken after a large fatty meal.

And remember, for Tadalafil to work – or any ED medication for that matter – you need sexual stimulation. Erections don't just happen by themselves.
How much does Tadalafil cost?
The cost of Tadalafil depends on the dosage. At Manual, we offer the following:


Standard (10mg) from £2.57/tablet (based on 10 tablets per month)
High (20mg) from £3.07/tablet (based on 10 tablets per month)
Daily (2.5mg) from £0.78/tablet (based on 90 tablets every 3 months)
Why is Tadalafil cheaper than Cialis?
Tadalafil is cheaper than Cialis because you're not paying for the brand name.

Cialis is only produced by one manufacturer, Eli Lilly, giving them complete control over the price, without any competition for the brand. Because Cialis is so well-known, Eli Lilly can charge a premium for the drug.

Meanwhile, Tadalafil is made by several different manufacturers and can be sold by any licensed pharmaceutical provider. This means the market is still very competitive and has driven the price down by quite a bit.
How to buy Tadalafil online
You can buy Tadalafil online from any licensed pharmacy. Just as you would when buying it over-the-counter, you'll need to fill out a short questionnaire to make sure it's right for you.

For example, we'll ask if you're taking nitrates for chest pain/angina or riociguat for pulmonary hypertension, along with several other healthcare and lifestyle questions.
"It's put a spark back into my relationship and given me a huge amount of confidence in the bedroom."
Meet our medical team
Enabling the mission of revolutionising how men approach health, they are at the core of the men's wellness platform.
Meet our team.
Get a free consultation
Speak with one of our clinicians and get personalised advice. Monday to Friday 9am-4:30pm
Book Consultation
About Tadalafil: Everything You Need To Know
Curated by Dr. Earim Chaudry, Manual Medical Director
Here at Manual, we give comprehensive guidance about all things ED. Our clinicians are here to help with expert healthcare advice, so get in touch if you have any questions that aren't answered below.
How can Manual help treat my ED?
The many causes of regular ED can be both psychological or physiological. In lots of patients, it can be a combination of different factors, so we advise having a checkup by a doctor if you're concerned. If you choose Tadalafil, you'll be in good hands with us. At Manual, we only work with accredited trustworthy suppliers. You'll receive your medication from the registered Manual Pharmacy, and you will be given a consultation beforehand to see if it is appropriate for you.
The vast majority of men get the results they want from Tadalafil – the ability to get a strong erection for up to 36 hours. As with all PDE5 inhibitors, you still need sexual stimulation for the drug to do its thing, so light some candles, put on some Barry White, and get your game face on. It's go time!
Using Tadalafil (Cialis) to treat Erectile Dysfunction
Tadalafil is the name of the active ingredient in both generic Tadalafil and branded Cialis tablets, so they work in the same way. You can check out the differences in our blog article,
Tadalafil vs. Cialis
, but as they are essentially the same drug, you will need a prescription for both Cialis or Tadalafil in the UK.
The main difference between Tadalafil and Cialis is the price. In the UK, branded Cialis is priced around £38 for four 10mg tablets. That equates to about £9.50 per tablet. At Manual, Tadalafil is available from £3 per tablet for the same dosage.
The normal dose of Tadalafil is 10mg, which has the desired effect in the vast majority of men who are experiencing erectile dysfunction. There are also 2.5mg and 5mg variants, which are taken once daily. These are recommended for individuals with a more active sex life – perhaps 3 times per week or more. At Manual, we offer the 2.5mg once daily variant, as well as the 10mg standard dose.
As 10mg Tadalafil is designed to last 36 hours, you don't need to take it daily. And we recommend that you only take it when you need it. As stated, the lower-dose versions of the drug (2.5mg and 5mg) can be taken daily, but this isn't the most typical approach for those men who use Tadalafil.
What are the side effects of Tadalafil?
Side effects are rare with Tadalafil, but when they do occur, the most common ones are headaches, flushing, dyspepsia (indigestion), nasal congestion, dizziness, nausea, muscle aches, hot flush, and vision changes (such as having a blue color tinge or blurred vision).
Very occasionally, more serious side effects such as sudden hearing loss or Priapism (unwanted prolonged erection for 4 hours or more) have been reported with Tadalafil usage. The likelihood of a serious side effect increases if the Tadalafil is mixed with drinking excessive alcohol, grapefruit juice, or also due to drug interactions with medications containing nitrates.
Nitrates are found in medications for high blood pressure and heart disease. They work by widening your blood vessels so that your blood pressure decreases. However, Tadalafil does the same thing – and their combination can result in serious – potentially fatal – drops in blood pressure.
Please read the patient information leaflet carefully for a full list of side effects and advice. Seek medical attention if you develop serious side effects after taking Tadalafil.
Who should not take Tadalafil?
Women, men without erectile dysfunction, and anyone under the age of 18 should never take Tadalafil – or any other ED drug for that matter.
Men whose doctor has advised that they're not fit enough for any physical or sexual activity, due to a recent heart attack, acute myocardial infarction (AMI), or stroke should also be cautious and avoid taking Tadalafil. Similarly, men who have low blood pressure or uncontrolled high blood pressure, pulmonary arterial hypertension, or who have had, or are under treatment for heart problems, angina (chest pain), or any blood flow issues shouldn't use Tadalafil.
Seek guidance from your GP if you're currently taking nitrates (nicorandil or other nitric oxide donors e.g. glyceryl trinitrate, isosorbide mononitrate or isosorbide dinitrate), or any of the following: recreational drugs such as 'poppers' (amyl nitrite); riociguat or other guanylate cyclase stimulators; ritonavir; CYP3A4 inhibitors, e.g. saquinavir; cimetidine; itraconazole or ketoconazole; erythromycin or rifampicin; diltiazem; alpha-blockers, such as alfuzosin; doxazosin or tamsulosin, which are medicines to treat urinary problems due to enlarged prostate (benign prostatic hyperplasia) or to treat high blood pressure
Men with hypersensitivity to the active substance or any of the excipients, anatomical deformation of the penis (such as angulation, cavernosal fibrosis, or Peyronie's disease), or any serious health condition should discuss their condition fully with their doctor before seeking Tadalafil treatment
Alternatives to Cialis (Tadalafil)?
Tadalafil is one of several PDE5 inhibitors that can be used to treat erectile dysfunction. Sildenafil, (Viagra), is a popular alternative to Tadalafil which isn't as long-lasting. Vardenafil (Levitra) and Avanafil (Spedra) are also less widely-used PDE5 enzyme inhibitors that treat ED. If you're not sure, talk to one of the clinicians at Manual, who will provide expert advice and personalised treatment solutions.
What is Tadalafil?
Tadalafil is the generic, unbranded version of Cialis. It's a cost-effective, long-lasting treatment for erectile dysfunction (ED), and it works for the vast majority of men.

It also goes by the brand name Adcirca when used to treat pulmonary arterial hypertension.
What does Tadalafil do?
Tadalafil is clinically proven to help you get an erection when you need it. It's a form of medicine called a phosphodiesterase type 5 (PDE5) inhibitor.

PDE5 inhibitors work by relaxing the smooth muscle in the blood vessels of your penis, increasing blood flow and therefore your chances of getting and keeping an erection.
Does Tadalafil really last 36 hours?
Yes, Tadalafil can last for up to 36 hours. That's why it's known as the "weekend pill." Just remember, it can take between 30 minutes and an hour to work, and you'll need to be sexually aroused to see any results. Maximum erection potential happens around the one-hour mark.
What is the recommended Tadalafil dosage?
Tadalafil is available in three doses from Manual: 2.5mg, 10mg, and 20mg.
The lower dose(2.5mg) is better for daily use, meaning you take it at the same time every day.This dosage is recommended for individuals with a more active sex life.

You can take the higher doses (10mg and 20mg) as and when needed – ideally around 30 minutes before sexual activity.
What is the difference between "Tadalafil daily" and "Tadalafil 36 hours"?
The difference between Tadalafil daily and Tadalafil 36 hours is in the dosage.

The lower dose of Tadalafil (2.5mg) should be taken once daily. If you have sex on more than three different days a week, the daily version should keep enough of the active ingredient in your system to see the results.

The standard dose (10mg) and higher dose (20mg) both work for around 36 hours and should be taken "on-demand" at least 30 minutes before sex.

We always recommend starting with the standard 10mg dose and moving up to the 20mg tablets if you don't see the effects you want (and you don't experience any of the side effects of Tadalafil).
Is Tadalafil safe?
Tadalafil is perfectly safe. As with many other ED treatments, Tadalafil has been through extensive clinical trials. It was approved for medical use by the FDA in 2003.

That said, some men can experience mild side effects from Tadalafil. Although rare, the most common side effects include headaches, dizziness, flushing, indigestion, congestion, nausea, back pain, muscle aches, and blurred vision.

Rarer still, an unwanted, prolonged erection lasting 4 hours or more (otherwise known as priapism) and sudden hearing loss have both been reported with Tadalafil use. Serious side effects can be caused by adverse drug interactions, i.e., mixing Tadalafil with excessive alcohol, grapefruit juice, or medications containing nitrates.

Nitrates are used to treat high blood pressure, and they work by widening your blood vessels. Tadalafil does the same thing, and when combined, it can result in a serious (potentially fatal) drop in blood pressure.

Important note: If you experience any loss of vision or chest pain while taking Tadalafil, stop immediately and seek medical help.
Join
more than 100,000
happy customers who have used Manual
They have helped me get my confidence back with my wife I lost for years. I feel like I am twenty years old again
Chris. Trustpilot