"This is so good I've tried lots of other products but nothing works like this."
The complete hair loss plan
This powerful combo promotes hair growth by blocking DHT - a hormone linked to hair loss - and by increasing blood flow around your follicles.
| | | |
| --- | --- | --- |
| Effectiveness | Over 9/10 men | |
| Contains | Tablets: 1mg Finasteride Daily Spray: Regaine 60ml | |
How many tablets would you like?
Cancel-any-time subscription
Ongoing clinician support
Treatments Included
Treatments Included
Finasteride
A powerful treatment, highly effective and clinically proven to keep what's up top.
How does it work?
It stops testosterone from converting into DHT, the hormone that shrinks hair follicles and causes hair loss.
How effective is it?
9 out of 10 of men taking Finasteride grew more hair or stopped losing hair so quickly.
How do I take it?
Oral tablets are taken once a day.
FIND OUT MORE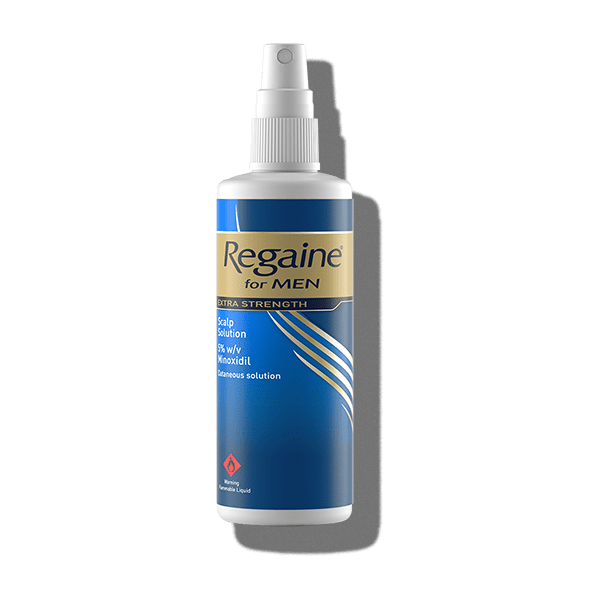 Regaine Minoxidil
Extra strength REGAINE®️ spray that promotes hair growth by shedding old hairs and replacing them with new ones.
How does it work?
It increases blood flow that stimulates hair follicles. Revitalising and stimulating hair from the resting to the growth phase.
How effective is it?
Studies have shown that over two thirds of patients with male pattern baldness saw an improvement in hair growth.
How do I take it?
Apply to dry hair and leave it on for at least 4 hours. Make it a habit and apply twice a day to get maximum benefits.
FIND OUT MORE
These are the most effective, proven treatments available in the UK
Dr. Earim Chaudry, Medical Director
How it works
Quick questionnaire
We'll ask you a couple of quick medical questions. Tick the boxes and a clinician will review your answers and issue you a prescription.
Free fast delivery
Your selected treatments will be delivered for free in discreet packaging. There'll be some helpful info included to make sure you get the best out of it.
Clinician support
Chat with a medical expert whenever you need. On the phone or via email. With support throughout your treatment.
Frequently asked
Finasteride 101
Everything you need to know about the world's most effective hair loss treatment. Get to know, start to grow! READ ARTICLE
The hair treatment bible
Minoxidil? Finasteride? Caffeine Shampoo? Come on in for the full low down of the most effective treatments out there. READ ARTICLE
Read me, I'm helpful
What is male pattern baldness?
Male pattern baldness (MPB) is the most common form of hair loss, caused by your genetics primarily. It accounts for 95% of male hair loss, and is treatable.
In MPB hair follicles gradually shrink, your hair becomes thinner and sheds more quickly. At the hair follicle there is an enzyme called 5-alpha-reductase (5AR) which changes testosterone into DHT (a more potent hormone). Hair follicles susceptible to MPB are more sensitive to DHT, and it causes them to shrink. The hair at the back of the head are more resistant to the effects of DHT and as a result receding hairlines and the crown usually are the areas of MPB.
How does Manual solve your hair loss for you?
We provide hair clinic expertise at your fingertips, and deliver the most effective hair loss treatments directly to you at less than half the cost of expensive private clinics.
All you need to do is select which you want, and answer an online consultation which our clinicians assess. In addition, we will provide unlimited clinical support from our hair clinicians directly from your personal account. There you can also upload photos of your hair for a clinical opinion and track your hair growth journey with before and after treatment pictures.
There is one simple and convenient subscription plan which is particularly important as a treatment for hair loss does not occur instantly, it takes time and commitment. It typically takes 3-6 months to start seeing visible changes and 12 months+ to see the maximum results.
What is the benefit of using two products (Finasteride and Minoxidil)?
These are the most effective official treatments on the market. To give yourself the best chance of tackling your hair loss, using BOTH the treatments gives you the most potent effect as they work on different parts of the hair loss problem.
Regaine for men extra strength 5% solution - contains the proven treatment minoxidil. This is a potent hair growth stimulant which works to increase blood flow to the scalp, enriching and boosting hair follicles to promote hair growth and prevent hair loss.
Finasteride - a proven effective treatment blocker of the DHT producing enzyme 5-alpha reductase, which protects your hair follicles from shrinking, reduces the risk of hair shedding and optimises hair regrowth.
So you are attacking the problem from both angles with a combination treatment, combined it should work in over 90% of men! This is huge.
How effective are these ingredients and when will I see results?
Finasteride and Minoxidil are both proven and highly effective treatments for male hair loss. Studies have shown that the earlier you start, the better the results!
Research shows that Finasteride halts hair loss or regrows hair in 9 out of 10 men, whilst Minoxidil is effective in over 6 out of 10 men. Combined it should work in over in >90% of men.
Consistency and perseverance are the key to successful treatment outcomes. Results start to be seen within 3-6 months of regular use, with maximal benefit being seen in 12months+. For this reason, we strongly advise quarterly plans for continuity. If the treatment is stopped the beneficial effects can start to reverse after 6 months and usually completely disappear after 9-12 months.
Are there any side effects?
Like all medicines there are risks of unwanted side effects. The good news is that with our hair loss treatments these are uncommon.
The most common side-effects with minoxidil are local skin irritation, a full list is outlined in the patient information leaflet.
98.6% of men who took Finasteride in clinical trials, continued to do so as they experienced no significant adverse effects to the medication. Finasteride side effects include a rash, tenderness around the nipples, decrease in libido, testicular pain, erectile dysfunction, poor seminal quality, depression/low mood and palpitations. Before starting Finasteride, please read the accompanying information leaflet for a full list of side effects.
Cautions, who should not use our service?
It is important to read the treatment plans and information supplied before starting treatment.
The following are not suitable for our treatment:
Women or Men under 18 yrs old, or over 65 for minoxidil
Men who don't have male pattern baldness or are completely bald
Minoxidil should not be used if you have scalp soreness, redness or low blood pressure problems
Finasteride is not suitable for men with benign prostate enlargement and if you currently are receiving treatment with an 5-alpha reductase inhibitor (e.g. finasteride, dutasteride).
Finasteride should not be used whilst trying to conceive a baby
If you are or have suffered from gynaecomastia, male breast or prostate cancer you should not take Finasteride.
Finasteride should not be used in anyone who suffers from severe depression/suicidal thoughts.
Are there alternative treatments?
Other treatment options are available such as PRP (platelet-rich plasma) injections and low-level laser treatment (LLLT) have worked for some people but don't have clear evidence to show their effectiveness.
Hair transplants have shown rapid improvement over the last few years, but they can be expensive and success rates vary greatly. Also usually even after your hair transplant your surgeon will recommend prescription medication such as finasteride and minoxidil to ensure you keep the hair that is still there.
Hair pigmentation treatments and hair fibres are another possible treatments/applications to disguise your hair loss, although they don't actually prevent the hair loss itself they can really improve your look.
There is no clinical evidence to suggest that herbal pills help with male pattern baldness.
Do you have more questions?
If you have a general question, fire over an email to help@manual.co.
If you have a clinical question but don't want to complete a consultation yet, sign up for a Manual account and send us a message to speak to one of our clinicians.