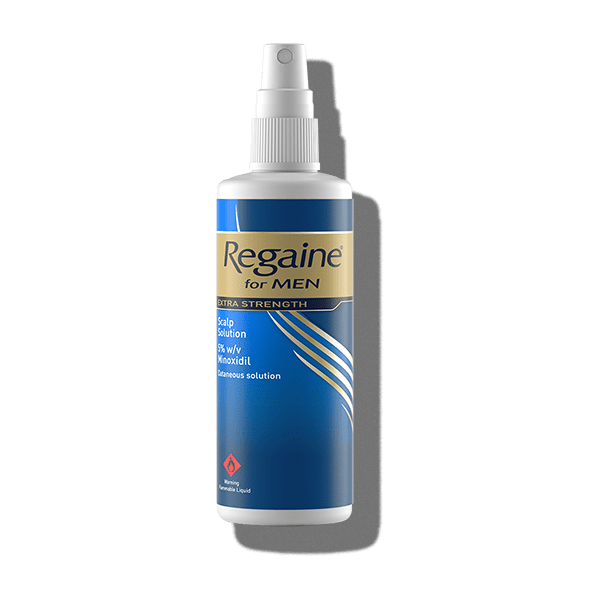 "This is so good I've tried lots of other products but nothing works like this."
Buy Minoxidil Online
Regaine 60ml
The most powerful spray for direct treatment to the scalp. Just two spray applications a day.
Cancel-any-time subscription
Ongoing clinician support
These are the most effective, proven treatments available in the UK
Dr. Earim Chaudry, Medical Director
How it works
Quick questionnaire
We'll ask you a couple of quick medical questions. Tick the boxes and a clinician will review your answers and issue you a prescription.
Free fast delivery
Your selected treatments will be delivered for free in discreet packaging. There'll be some helpful info included to make sure you get the best out of it.
Clinician support
Chat with a medical expert whenever you need. On the phone or via email. With support throughout your treatment.
Frequently asked
How does Minoxidil work?
Minoxidil works as a vasodilator, which widens blood vessels in your scalp to encourage the flow of blood to the area. With more blood comes more nutrients and oxygen, helping to promote and support healthy hair follicles.
In this way, Minoxidil works to "reset" the life-cycle of your follicles, meaning that their growth phase is longer and the resulting hair thicker and healthier.
Does it really reverse hair loss?
Clinical trials have consistently shown Minoxidil to reverse hair loss – and it is approved and licensed in the UK and USA as an effective treatment for male pattern baldness. Studies have shown that over 60% of men who tried the treatment saw their hair loss stop or reverse.
How long does it take to see results?
No treatment for hair loss is instantly successful – and Minoxidil is no exception. You can expect to see a difference to your hairline after three to six months of continuous use. Whilst for some it can be longer, for others the timelines can be much shorter.
Read me, I'm helpful
When should I start taking Minoxidil?
With hair loss treatment, it's really a case of the sooner the better. Minoxidil promotes follicular health, but if your hair loss has progressed too far without treatment, these follicles can be permanently damaged. As a result, you may not see regrowth if there are areas on your head that have no hair at all and haven't for a long time. With Minoxidil, there is no such thing as too soon.
How to use Minoxidil
Unlike Finasteride, which is taken as a pill, Minoxidil is applied topically as a spray. Apply it twice daily directly onto the affected area, avoiding drippage and washing your hands thoroughly afterwards. Stick to the recommended dose, and, if you miss an application, don't be tempted to double the next dose to "catch up". This will only increase the chances of side effects.
Remember, there is no quick fix for hair loss – and Minoxidil treatment takes time. So, keep it up, and you will see results.
Who should not use Minoxidil?
Minoxidil should only be used by men with male pattern baldness. Other types of hair loss will not be effectively treated with Minoxidil. So, if your hair loss is accompanied by scabs and lesions, for example, do not take Minoxidil. This only increases the chances of the drug entering your bloodstream.
It is generally recommended that you avoid Minoxidil if you are on high blood pressure or hypertension medication. These lower your blood pressure, and Minoxidil will too, meaning that you are at greater risk of side effects. Do not use the medication if you are under eighteen years old.
What are the side effects of Minoxidil?
The side effects of Minoxidil are rare and, when they do occur, they are usually temporary and mild. The most common side effect of Minoxidil is irritated skin where the spray has been applied – but this can be the result of the alcohol within the solution.
Because Minoxidil is a vasodilator, it can lower your blood pressure slightly. Symptoms associated with this include dizziness, tiredness, and drowsiness, as well as swelling around the face and hands.
Other side effects can include vision alterations, nausea, heart palpitations, chest pain, and flushing. If you experience any of these – or if you come out in a rash or have severe itching – stop using Minoxidil and consult a doctor.
Why wouldn't I go to a hair clinic instead?
The choice between a hair transplant or hair loss treatments is ultimately yours. However, hair transplants are expensive and they do not actually stop a progressive condition such as male pattern baldness.
The truth is that, in the majority of cases, men who choose hair surgery are often required to use Minoxidil and/or Finasteride, too. This prevents further hair loss post-operation – and prevents you from requiring further surgery.
If you are still able to grow hair, we would recommend treatment with Minoxidil or Finasteride – or both. It's the only medically-approved way to prevent further hair loss, and even reverse it.