Last updated
5th June 2023
Finasteride is an oral tablet for treating male pattern baldness, androgenetic alopecia, or male pattern hair loss. It can also be used to treat an enlarged prostate. When used to treat male pattern baldness, finasteride 1mg tablets should be taken once daily.
Finasteride is generally a long-term hair loss medication and can be taken as long as needed. The best results are seen within 6 months to a year of taking daily finasteride tablets. When you stop taking finasteride, your hair loss will resume, and your hair will return to how it was before treatment.
Below we look at how long it takes to unlock the power of finasteride and how long you should use the treatment for the best hair growth results.
What is Finasteride?
Finasteride is an unbranded tablet containing the active ingredient finasteride. It can also be found under branded names, such as Propecia. Finasteride is used to treat benign prostatic hyperplasia, a condition in which your prostate is enlarged. During treatment, it was found that finasteride improved the look and growth of hair in men.
Finasteride was then released as a hair loss treatment in the private sector. Although it is an effective and safe treatment, you cannot currently get finasteride on the NHS for hair loss.
Men with mild to moderate male pattern baldness will get the best effect from finasteride tablets. It is not for use in men with complete hair loss.
How Does Finasteride Work?
If you have been diagnosed with androgenetic alopecia, you may first notice hair loss on certain areas of your scalp, such as the crown and sides. Male pattern baldness is thought to be caused by a hormone called DHT (dihydrotestosterone), a male hormone created with testosterone. Genetics and other factors can also affect your likelihood of getting male pattern baldness.
Finasteride reduces your scalp's DHT levels, which slows down the progression of hair loss, reduces hair thinning, and promotes new hair growth. It does this by blocking an enzyme which is required to turn testosterone into DHT. With less DHT in the scalp, hair loss is no longer an issue for most men taking finasteride.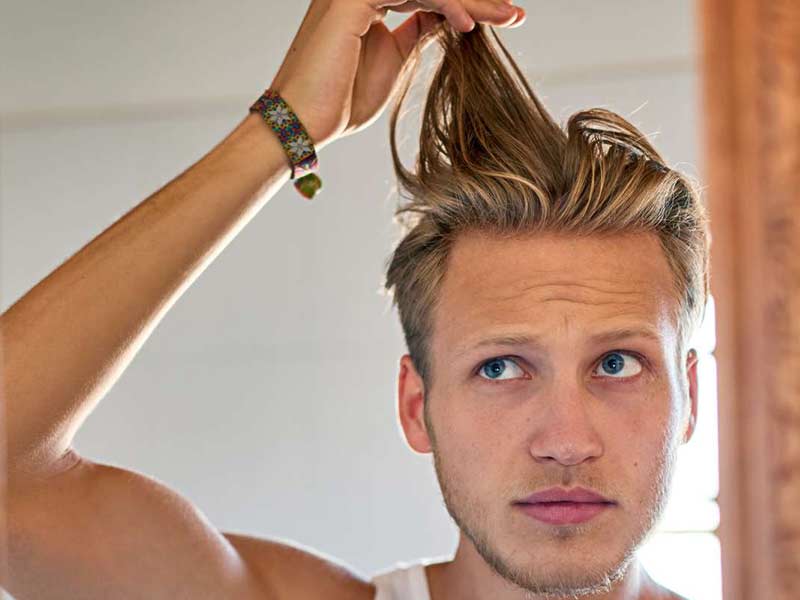 When Should I Expect to Start Seeing Results from finasteride?
Although finasteride will start to work straight away, it can take some time for new hair growth. With this in mind, it usually takes around 3 months for men to see a noticeable effect from finasteride. As you continue to take finasteride, results will continue to improve. Some men even notice hair regrowth where they have begun to lose hair.
To see the final results from finasteride, you need to take treatment for around 1 year. If it has not worked within a year, your doctor will discontinue treatment and may recommend trying another hair loss treatment.
Even if finasteride does not cause hair regrowth, it will still slow down hair loss. When you stop taking finasteride, your DHT levels will rise again. This causes the return of male pattern baldness symptoms.
Results Timeline: What to Expect
As finasteride takes some time to work, you may notice slight changes every few months. Below is a breakdown of the common results from finasteride reported by men when using daily tablets.
1-3 Months
After 1 month of taking finasteride, you will notice some hair shedding. This is a completely normal part of treatment and is not a cause for concern. Older hairs shed to make way for healthier and newer hairs.
These new hairs will be the base for a fuller head of hair and will be thicker. This is because they are growing with less DHT present in the scalp.
3-6 Months
Around the 3 to 6 month period, you will start to see a substantial change in hair growth. You may notice bald patches filling up and being covered by new hair. You should also notice less hair loss.
How long this takes depends on your current hair loss severity and how your body responds to the treatment. Some men notice an overall improvement in 3 months. In other men, it can take a full 6 months.
6-9 Months
Around the 9-month mark, your hair follicles should regularly produce healthier, thicker hair. You should be losing a lot less hair, if any. At this point, you should see a considerable improvement in male pattern baldness symptoms.
9 Months – 1 Year
Using finasteride for 1 year shows the best results. Your hair is not likely to improve any further than it has at this stage but should maintain this state if you continue treatment. Men who have not seen hair regrowth should still see a significant improvement in hair loss.
How to Improve Finasteride Results
There are several ways you can improve the effectiveness of finasteride and make it work better. If you use finasteride, try the methods below to improve your hair loss results.
Massaging Your Scalp Daily
Scalp massage is a great way to improve blood flow to the scalp and make hair loss treatments work better. Increasing the blood circulation to your scalp through daily massage gives your hair follicles essential nutrients. These can be used to grow healthier, thicker hair and promote hair growth.
Using Minoxidil and Finasteride Together
Minoxidil is another hair loss treatment that can be found as a topical foam or solution. You can apply minoxidil directly to your scalp, and it can be used in conjunction with finasteride tablets for effective results.
Minoxidil belongs to a group of medications called vasodilators. It improves blood flow to your scalp by widening your blood vessels. This supplies the hair follicles with a rich supply of nutrients and oxygen (much like scalp massage). With this, your hair follicles can grow healthier hair.
Both minoxidil and finasteride are effective in treating hair loss and regrowing hair. Minoxidil can be found as an unbranded treatment or under the brand name Regaine.
Taking Hair Loss Supplements
A hair loss supplement is a natural supplement that can promote hair growth. It does this with the help of natural ingredients, such as vitamins and minerals, that are used to grow healthy hair.
Hair loss supplements are specifically designed with the best vitamins for hair growth, such as iron, zinc, and vitamin B.
Do Finasteride Results Last Forever?
Unfortunately, finasteride results are not permanent. No permanent medication is used to treat male pattern baldness, but finasteride will work if you keep taking it. Finasteride is a safe long-term treatment, so you can take it for many years.
Once you stop finasteride, any improvements or positive results will return to how it was before starting treatment. Your hair loss may come back more rapidly as your DHT levels increase.
Potential Side Effects of Finasteride
Some men notice mild side effects whilst taking finasteride but these usually go away when you stop treatment or within a few weeks. Your body often needs time to adjust to a new medication so side effects sometimes occur. Some men will get no side effects at all.
Uncommon side effects of finasteride (affects up to 1 in 100 men) include:
depression
difficulty getting an erection
problems with ejaculation
decreased sex drive (libido)
If you notice these side effects that do not go away or affect your life, talk to your doctor or pharmacist as soon as possible.
Other side effects have been reported, but whether these are common, uncommon, or rare is unknown. More research is being carried out into these side effects, so it's important to report any side effects you experience whilst taking finasteride to your doctor.
Other side effects of finasteride include:
feeling anxious
testicular pain
a permanent reduction in sex drive
ejaculation disorder
infertility or poor-quality sperm
blood in semen
changes to breast tissue, such as pain, swelling, or nipple discharge (this could be a sign of breast cancer, and you should talk to your doctor immediately)
mild allergic reactions, such as a skin rash or itching
increased heart rate
A serious and rare side effect of taking finasteride is a severe allergic reaction called anaphylaxis. If you notice symptoms such as fainting, dizziness, swelling in the face or throat, or difficulty breathing, call 999.
Finasteride is unsuitable for women and should be avoided if pregnant or breastfeeding. Crushed or broken finasteride tablets can harm an unborn baby and may cause abnormalities in a male foetus.
The Bottom Line on Finasteride and Hair Growth
Finasteride is a suitable and effective treatment for men who have mild to moderate hair loss caused by male pattern baldness. It can improve hair growth through thicker and healthier hair. In some men, finasteride will also promote hair regrowth, reversing the signs of hair loss.
You must take finasteride long-term for best results and can continue treatment as long as you want to. Combining finasteride with minoxidil makes both treatments more effective.
FAQs
When is the best time to take finasteride?
You can take finasteride at any time of the day. For best results, take your finasteride tablet at the same time each day.
How long before finasteride starts working?
Most men see an improvement within 3 to 6 months, but this can be quicker or take a little longer.
What happens if I have a missed dose?
If you have a missed dose of finasteride, take it as soon as you remember. If your next dose is due, you should skip the missed dose and continue treatment as normal. It can be difficult to remember to take a daily pill, so put it somewhere you'll remember, such as beside your bed or set a reminder on your phone.
Can you drink alcohol whilst taking finasteride?
Yes, finasteride is safe to use alongside alcohol. You should avoid excessive alcohol consumption as this can adversely affect your health and may reduce the effectiveness of finasteride.
Can I get finasteride from my doctor?
Finasteride can only be prescribed for benign prostatic hyperplasia through the NHS. You can get finasteride privately, through a hair clinic or online pharmacy.
Does finasteride regrow hair?
Finasteride can regrow hair but not every man will see hair regrowth when using it. The primary use of finasteride is to prevent male pattern baldness and promote healthy hair growth. This study found that 48% of men notice hair regrowth within 1 year of taking finasteride. To regrow hair, you need to use finasteride for a long time.
Are there any natural treatments for hair loss?
Other than hair loss supplements, there is little research into other natural hair loss treatments. Medications work the best for hair loss, such as finasteride and minoxidil. If a natural treatment promises quick results and hair regrowth, proceed cautiously.
Sources
20063819?p=1