Last updated
5th June 2023
Men diagnosed with male pattern baldness can use a medication called finasteride to stimulate new hair growth and slow down the progression of hair loss. By taking finasteride every day, you can lower the levels of a certain hormone in your scalp which has been scientifically proven to contribute to hair loss.
This handy step-by-step guide is here to teach you everything you need to know about oral finasteride tablets, including how to take finasteride and what you should know before taking finasteride for the first time.
What is Finasteride?
Finasteride is a 1mg tablet taken daily for the treatment of male pattern baldness, male pattern hair loss, or androgenetic alopecia. All of these are medical terms for the same condition in which a man begins to lose his hair, often prematurely (before the age of 40).
Male pattern hair loss mainly affects the front and top of your scalp. The first signs are usually thinning hair at the crown of your head. You can get a clinical diagnosis of male pattern hair loss by speaking to your doctor.
Finasteride is used for men aged 18 to 41 who have mild to moderate hair loss. Men with complete hair loss cannot use finasteride, as it cannot reverse baldness.
Finasteride is an unbranded medication, which means the active ingredient is also the name of the medication. Finasteride is also sold under the branded name Propecia for male pattern hair loss.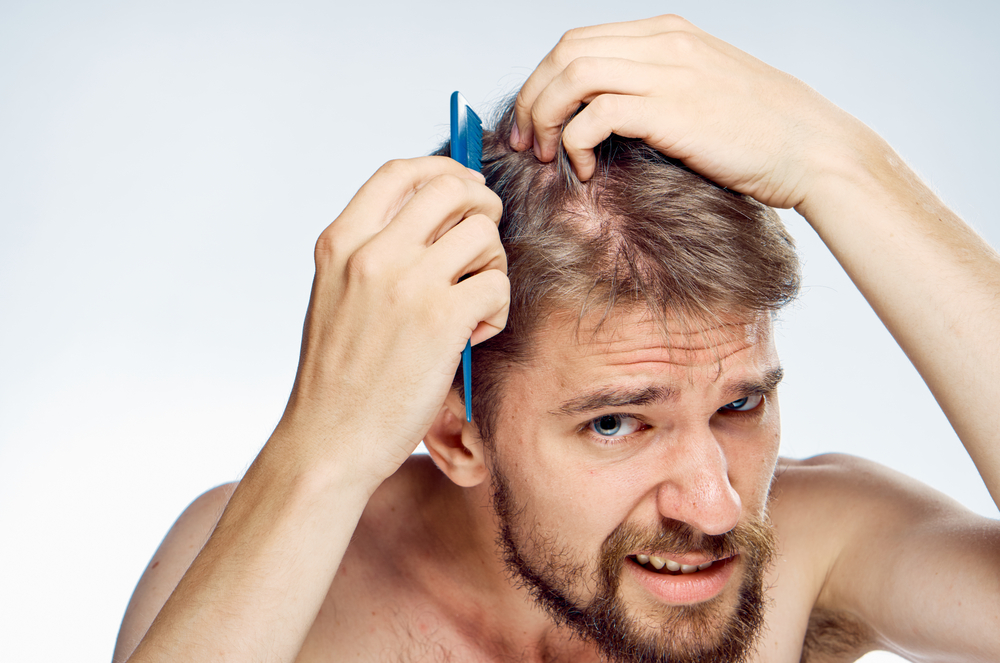 Uses of Finasteride
Finasteride currently has 2 uses. The medication was first used in the treatment of benign prostatic hyperplasia, which is the medical term for an enlarged prostate. This can cause symptoms such as needing to pee more urgently and frequently, and waking up in the night to pee.
Another use of finasteride is for the treatment of male pattern hair loss, which is what this guide refers to throughout. You can only get finasteride privately to treat hair loss, although the medication has been approved for this use since 1997.
Finasteride 1mg tablets are for the treatment of hair loss only. Finasteride 5mg tablets are for the treatment of benign prostatic hyperplasia.
How to Take Finasteride
You should always take finasteride as your doctor tells you to. Most men will take 1mg of finasteride each day. Your doctor may adjust your dose if you have certain health conditions or take other medicines.
As each tablet contains 1mg of finasteride, this means your total dose is one tablet a day. Your finasteride tablet should be swallowed whole, never use crushed or broken finasteride tablets. They cannot be dissolved in water and this could affect how the medication works. Take finasteride with or without food, around a schedule that works for you.
Finasteride is known as a long-term hair loss treatment, which means it can be taken as long as you need it and is safe to do so. Most men only notice a change in hair growth around 3 to 6 months after taking treatment and the medication remains effective the longer you take it.
When you stop taking finasteride, your hair will go back to how it was before taking finasteride. This usually takes around 6 to 12 months.
If you have a forgotten dose, take your next dose as soon as you can. If your next dose is due and it has been more than one day, skip the missed dose and continue your regular dosing schedule. You should not take a double dose of finasteride, even to replace a missed dose. This will increase the risk of side effects. Talk to a doctor or pharmacist if you take more finasteride than prescribed.
Benefits of Taking Finasteride
Finasteride is a beneficial and effective treatment for male pattern hair loss. This condition is thought to be caused by a number of factors, including genetics and male hormones. One specific hormone called dihydrotestosterone (DHT) can seriously contribute to male pattern hair loss.
The active ingredient finasteride blocks an enzyme called Type II 5-alpha reductase. This converts another male hormone called testosterone into DHT. Without being able to attach to this hormone, DHT levels can be significantly lowered.
This stops and may even slightly reverse any current hair loss, improves hair growth and development, and prevents further hair thinning. These results are important for any man, as nobody wants to lose their hair at a young age. Finasteride can help you take back control of your hair, and your confidence.
Side Effects of Taking Finasteride
Your body needs to get used to a new medication, so sometimes side effects occur. Finasteride can cause some side effects, most of which will go away when you stop treatment or after a few weeks of taking the tablets. Not every man who takes finasteride will get side effects, so you may not notice any.
It is important to know the side effects of any medication you are taking, so always check the patient information leaflet which will be included with your finasteride tablets.
You should stop taking finasteride and seek urgent medical attention if you have a serious allergic reaction. Symptoms include difficulty breathing and swallowing, swelling in the face, dizziness, and skin rash.
You must also speak to your doctor if you notice any changes to your breast tissue. This includes pain, swelling, lumps, or discharge from your nipple. Sometimes finasteride can cause these side effects but it may also be a sign of breast cancer, so it's important to get checked.
Uncommon side effects of finasteride include:
difficulty maintaining an erection
a decreased sex drive (libido)
depression
changes to ejaculation, such as finding it difficult to ejaculate or ejaculating less semen
There are a few side effects that have been reported, but not enough to determine a frequency yet. When taking finasteride tablets, some men also get side effects such as:
testicular pain
mild allergic reactions, including itching or a rash
increased heart beat
blood in semen
erectile dysfunction, even after stopping treatment
reduction in sex drive that lasts after you stop taking finasteride
problems with ejaculation, even after stopping treatment
anxiety
poor quality semen or infertility
You should talk to your doctor and report any side effects to them. If you get any serious side effects, talk to your doctor immediately or call 111 or 999.
Precautions and Warnings for Taking Finasteride
Women and men under 18 shouldn't take finasteride. Not only is finasteride ineffective in women, it can also harm an unborn male foetus. If you and your partner are trying to conceive or are pregnant, you should not use finasteride. Pregnant women cannot come into contact with crushed or broken finasteride tablets, as it can be absorbed through the skin. This could cause abnormalities in a male baby.
You should also avoid finasteride if you have allergies to any ingredient listed in the medication, as this could cause a fatal allergic reaction.
Some men experience low mood, anxiety, or depression whilst taking finasteride. Talk to your doctor if you notice these side effects or if you have any of these symptoms before using finasteride for the first time.
Finasteride contains some sugars, so talk to your doctor if you have a sugar intolerance.
Interactions with Other Medications
A herbal remedy for depression, known as St John's wort, can make finasteride less effective. Finasteride may also interact with other medications, so talk to your doctor or pharmacist before use.
As well as interacting with some medications, finasteride can affect a certain blood test called PSA (prostate specific antigen). This blood test is used to diagnose prostate cancer, but taking finasteride can cause lowered PSA levels. Speak to a doctor or pharmacist if you are due to take a PSA blood test and are taking finasteride.
Storage and Disposal of Finasteride
Like all medications, finasteride should be stored safely away from children and vulnerable adults. Finasteride has no other special storage instructions.
Empty finasteride bottles or tablet packs can be thrown away with normal waste. If you have any expired or leftover finasteride, talk to a doctor or pharmacist about where you can dispose of this safely. You should not throw away unused medication into your household waste. This could damage the environment and any wildlife.
Conclusion
Finasteride tablets should be taken once a day for the treatment of male pattern hair loss. Most men will see a reduction in hair loss and less hair thinning. Some men will also notice that finasteride promotes new hair growth. You can use finasteride long-term for hair loss, as any results will be lost once you stop taking the treatment.
To get finasteride, you need to speak to a private hair loss clinic and complete a short medical form to make sure finasteride is suitable for your medical background. If you have been diagnosed with male pattern baldness, you don't need to sit and watch as you lose your hair. Instead, try oral finasteride as a treatment to regain your hair- and your confidence.
Sources