Last updated
5th June 2023
Minoxidil is a medication commonly used in the treatment of male pattern hair loss. It can be applied directly to the scalp and usually comes as a solution or foam. It does not require a prescription and may work better alongside another hair loss treatment known as finasteride.
Minoxidil is an effective treatment used to stimulate hair growth and reduce signs of hair thinning. You may also notice hair regrowth if you use minoxidil long-term. Below we look at how minoxidil works, the different uses of minoxidil, and what you need to be aware of before using minoxidil.
What is Minoxidil?
Minoxidil is a medication used to treat high blood pressure and hair loss. Minoxidil is sold as a scalp solution when used to treat hair loss. It can treat men with hereditary hair loss, medically known as androgenetic alopecia or male pattern baldness.
Minoxidil topical solution is commonly sold under the branded name Regaine for Men. The treatment is suitable for men aged 18 to 65 and can prevent further hair loss. In some men, topical minoxidil solution also helps with regrowth and hair thinning. Women with hair loss can also use Regaine for Women, a 2% minoxidil treatment.
Minoxidil works as a vasodilator. Although it is not precisely known how topical minoxidil works for hair loss, the vasodilation properties of the medication have a lot to do with it. A vasodilator is a medication that opens (dilates) your blood vessels. This makes blood flow to your scalp easier, which stimulates the hair follicles to grow new hairs.
Other research suggests that topical minoxidil works on a cellular level to improve hair loss, although this still needs to be fully understood. Further research is being carried out into how minoxidil solution works, but the medication remains an effective solution for male pattern hair loss.
History of Minoxidil
Many medications are designed for one purpose and are then found to treat another condition. Minoxidil is no different.
Oral minoxidil was first used as a high-blood pressure treatment. Researchers and doctors began noticing that patients using minoxidil reported a strange side effect: unwanted hair growth.
Researchers decided to take this further and began testing the use of minoxidil topical foam on men with male pattern baldness. When testing proved effective, the drug was approved as a hair loss treatment in the US and UK. Minoxidil is not given through the NHS, but you can get it over the counter or through an online pharmacy.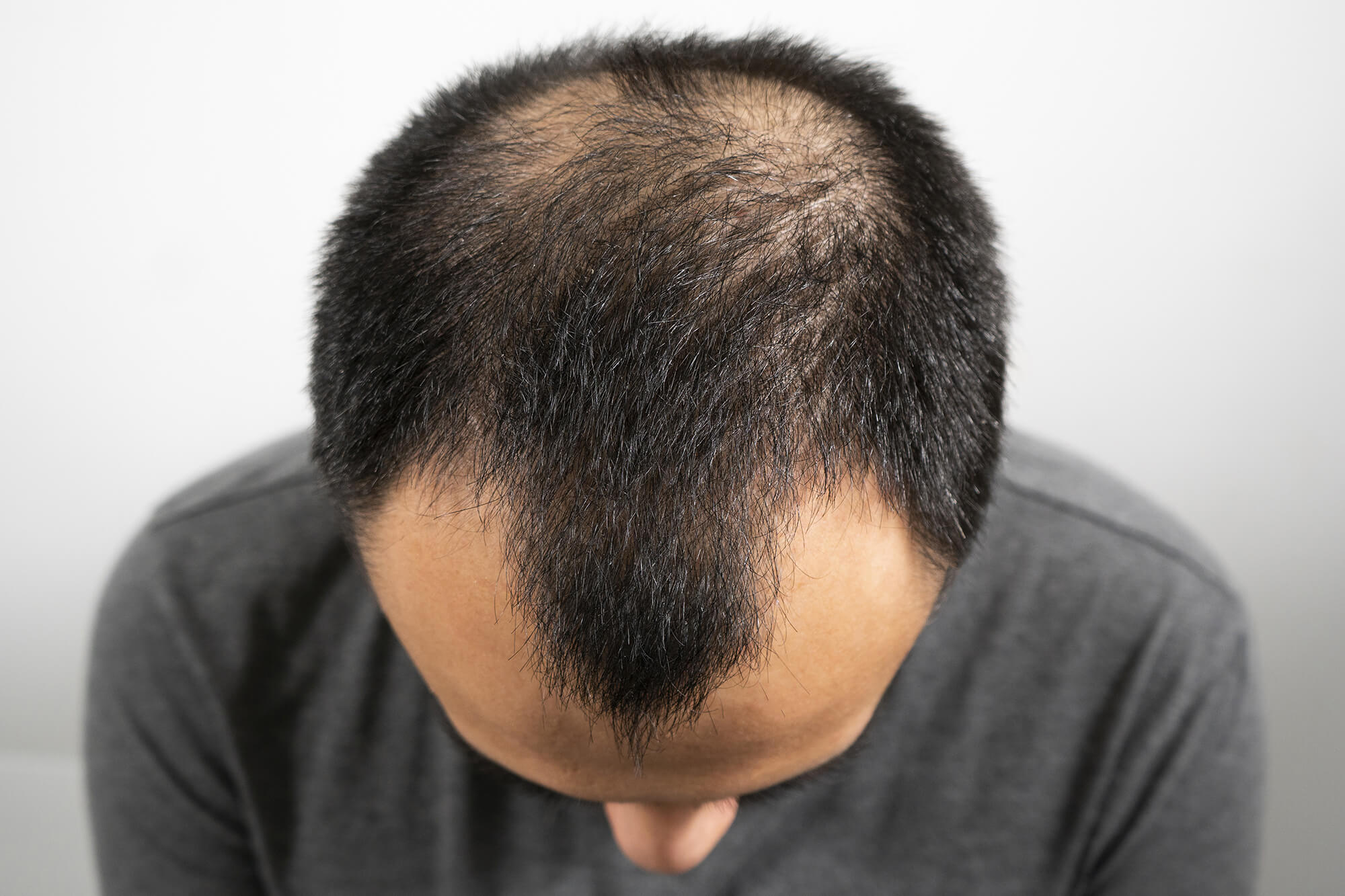 Uses of Minoxidil
Minoxidil has 2 main uses, one of which requires a prescription. Below we look at the 2 uses of minoxidil in more detail.
Hair Loss Treatment
Applying topical minoxidil to the areas of your scalp where androgenetic alopecia has started to cause hair loss can prevent further hair loss and promote hair regrowth.
Topical minoxidil can be bought over the counter, so you don't need a prescription. It can come either as a minoxidil solution or foam.
Men with small areas of baldness will get the best results from minoxidil foam. If you have areas of baldness or hair loss, you will not likely benefit from minoxidil treatment and may need an alternative.
When you stop using minoxidil topical foam or solution, the symptoms of male pattern hair loss will reappear. You will also start to lose any hair that has regrown.
High Blood Pressure Treatment
Oral minoxidil treats high blood pressure, medically known as hypertension. As a vasodilator, minoxidil relaxes the blood vessels making blood flow easier. Oral minoxidil is a prescription-only medication.
Side Effects of Minoxidil
Topical minoxidil can cause some side effects, so applying it to a dry and healthy scalp is essential. Side effects often go away within a few days or weeks of treatment and aren't likely to be serious.
Common Side Effects
A very common side effect of minoxidil is headaches, which can be treated at home with paracetamol and ibuprofen.
Common side effects of minoxidil include:
unwanted hair growth on other areas of the body (always rinse any other parts of the body that may have come into contact with minoxidil treatment)
dermatitis, itching, or scalp irritation
An uncommon side effect of minoxidil is nausea.
If you notice any of the above side effects and they do not go away or bother you a lot, tell your doctor or pharmacist for advice.
Rare Side Effects
If you notice any severe and rare side effects, get medical help immediately. This includes:
chest pain
signs of a severe allergic reaction, including facial swelling, breathlessness, difficulty swallowing, fainting, or dizziness
If you notice any of these side effects, stop using topical minoxidil and tell your doctor or pharmacist:
low blood pressure
mild to moderate allergic reactions, which can cause skin redness, throat tightness, itching, and a swollen scalp/face
feeling dizzy or faint
increased heartbeat or palpitations
unexplained weight gain
shortness of breath and swollen hands or feet
a persistent rash or redness
change in hair texture or colour
Other side effects have been reported, but how often these occur has yet to be discovered. Check the patient information leaflet for more information, or speak to your doctor if you get a side effect not listed here.
How to Use Minoxidil
Avoid cuts, wounds, sensitive or damaged skin, and eyes when using topical minoxidil. If you get minoxidil foam anywhere it shouldn't be applied, rinse with copious amounts of cool, clean water. Topical minoxidil can cause burning and irritation if not used on a healthy scalp.
Topically applied minoxidil should only be used externally. When using minoxidil topical solution, make sure to:
avoid breathing in any solution when spraying it onto your scalp
only apply to the scalp
wash your hands with soap and water before and after use
clean any other areas that come into contact with the medication
only apply on a dry scalp (no wet hair)
The applicator supplied with your minoxidil solution will accurately release a 1ml dose. Apply minoxidil to the affected area of your scalp twice a day. Lightly massage the minoxidil solution or foam into your scalp. You should leave 12 hours between doses and never use more than 2 ml daily.
To get the best effects from topical minoxidil, you must use the treatment for at least 2 months. Hair growth takes time, meaning it takes about this long to see results. With long-term use of minoxidil, you may start to see hair regrowth and further improvement of hair loss. Minoxidil is safe to use as a long-term treatment, and as long as you do not have side effects, you can use it as long as you need to.
Your doctor may discontinue minoxidil if you have not seen any hair growth after 1 year of treatment.
Precautions When Using Minoxidil
Minoxidil solution for men should not be used if you:
are a woman
do not fall into the age range for the medication (18 to 65)
have lost all your scalp or body hair or have a shaved scalp
have not been diagnosed with male pattern hair loss or androgenetic alopecia
are experiencing hair loss because of medical treatment, such as chemotherapy
have had a bad allergic reaction to ethanol, minoxidil, or propylene glycol
have high blood pressure (even if not currently being treated)
have a skin condition that affects your scalp, such as psoriasis or sunburn (topical minoxidil may make this worse and could pass into your bloodstream, causing low blood pressure)
are currently using another scalp treatment, such as a cream, ointment, or lotion
have a bandage or dressing on your scalp
are trying to treat hair loss anywhere other than the scalp
If any of these apply to you, tell your doctor or pharmacist before using minoxidil solution.
Minoxidil topical solution is best used on healthy scalps with no other skin conditions or wounds. You should not put anything else on your scalp or hair when using topical minoxidil. This includes topical scalp medications or hair wax or gel. If you put topical minoxidil on an open cut or wound, it can cause pain and irritation.
People with heart disease should speak to a doctor or pharmacist before using topical minoxidil.
As the 5% minoxidil scalp treatment is only for men, women should not use it or come into contact with it, especially if pregnant or breastfeeding.
If you get side effects like low blood pressure or dizziness, you should not drive or use machinery until the side effects disappear.
Drug Interactions with Minoxidil
If you take any medications, you should discuss this with a healthcare professional before using minoxidil foam. This is especially true if you take other medicines which are vasodilators, like minoxidil. These 2 medications could interact and increase vasodilation effects, making your blood pressure drop too low.
Overdose Symptoms and Treatment
Using more minoxidil foam than prescribed will not make hair grow quicker or better. Using more than the intended dose of topical minoxidil simply increases the risk of side effects, especially serious ones.
If anyone overdoses on minoxidil, get medical advice immediately from a doctor or pharmacist.
Accidental ingestion of topical minoxidil could cause serious cardiac events. Call 999 or get to A&E immediately if anybody ingests this treatment.
Storage Instructions for Minoxidil
Minoxidil must be kept away from children or vulnerable adults. It should not be stored in direct sunlight and above 25°C. Do not use minoxidil solution after the expiry date.
Available Forms of Minoxidil
Minoxidil is a liquid solution that can be applied to the scalp with a dropper. You can also get minoxidil foam, which is applied with a spray bottle. Both of these treatments are as effective as each other; you just need to choose which treatment type you'd prefer to use.
Brands of Minoxidil
The current branded treatments available for minoxidil are:
Rogaine for Men Extra Strength
Rogaine
Rogaine for Men
Rogaine for Women
Cost of Minoxidil
The cost of minoxidil can vary depending on where you buy the treatment. It can also be cheaper to get minoxidil as a 3-month treatment plan, which costs around £19 per month. You can also get a hair loss treatment package, which includes other hair loss medications.
Using minoxidil therapy with finasteride can be the most effective treatment for androgenetic alopecia.
Minoxidil Alternatives
If you cannot use topical minoxidil, you may be able to use another hair loss treatment. Minoxidil alternatives include:
finasteride, a hair loss pill that works on the hormone related to male pattern baldness, promoting better hair growth and slower hair loss
wigs
hair transplantation
Conclusion
An effective hair loss treatment, topical minoxidil can be used twice daily to treat affected areas of the scalp. With long-term use, men with male pattern hair loss can reduce signs of hair loss, improving the look of hair and regaining confidence.
Sources